Bored of being stuck at home? So are some scientists we know. Then why not get together for a chat?
Curious about the daily life of a scientist? How do they find things out? Do they have a laboratory in their basements? Let's find out! 
Join us for a freewheeling chat with scientists as they talk about their discoveries and share their favorite science jokes. Every day for five days, you'll meet scientists working in microbiology, neuroscience, electronics, astrophysics, and cnidology (what's that!?). Gather your friends and get ready with your questions!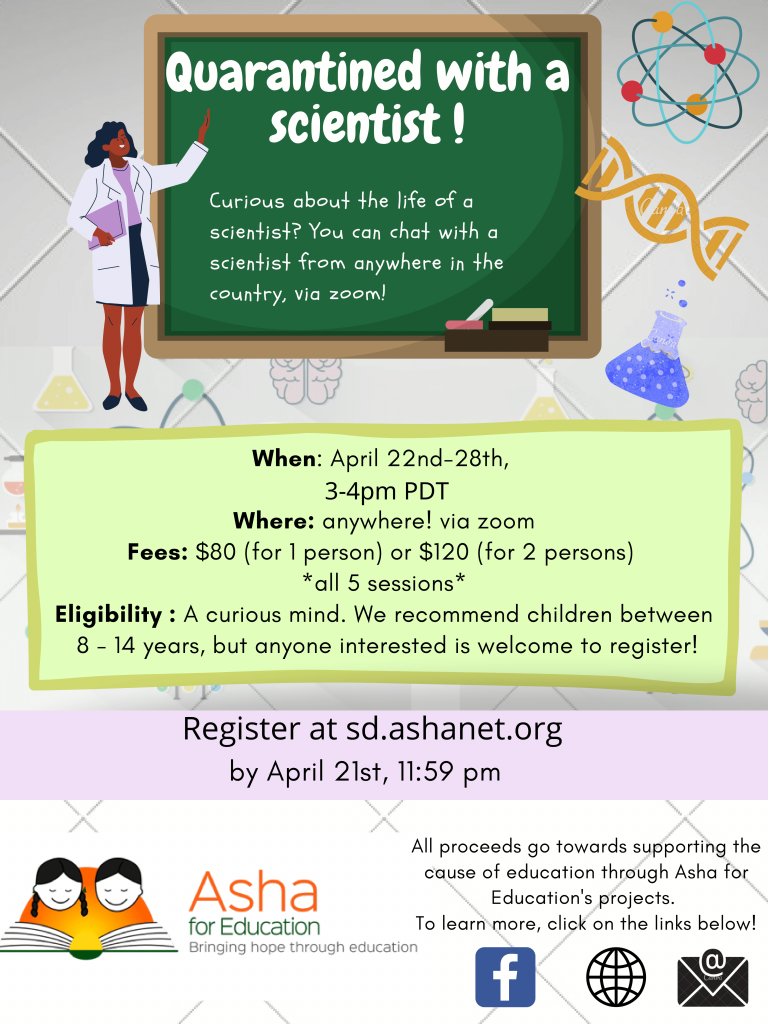 Connector.

Kishalay

Kishalay De is a PhD student at Caltech working on astronomy and astrophysics. His research analyzes binary star systems using infrared and optical telescopes. When not in his lab, he can be found at astronomical observatories in Palomar or other places. He will be talking about what we see when we look up at the night sky, how do you tell apart stars, planets and meteors from one another and what are binary stars.

Connector.

Kanika

Kanika completed her PhD from UC San Diego in Jan 2020. She studied tiny invisible bugs around us, including bacteria and viruses using large microscopes. She now studies what role the bugs present in our gut play in influencing our health. She will talk about what viruses are, how do they affect us and how our body fights them.

Connector.

Tapan

Tapan is a PhD student at UC San Diego studying the physics behind animal development and behaviour. He does this using a freshwater cousin of the jellyfish – the immortal hydra. Yes – it did say immortal! He will be telling us more about these immortal beings.

Connector.

Raghu

Raghu is a PhD student in Electrical Engineering at UC San Diego. His research is on integrated circuits for wireless communications with special focus on signal processing techniques for mobile communications. He will be talking about what's inside a cell phone and how GPS satellites 20,000 kms away can locate our tiny cell phones with magical precision of the length of a car.

Connector.

Sunandha

Sunandha is a PhD student in Neurobiology at UC San Diego. She studies the importance of communication and coordination between regions of the brain and how this affects memory. She studies this by teaching mice to perform different tasks and recording signals from their brain. She will be talking about what goes on in the brain when you are learning, remembering and moving around in your surroundings.
Frequently Asked Questions